ANZA Realtime Broadband Array
Introduction
The ANZA Seismic Network is a realtime digitally telemetered broadband array that straddles the San Jacinto and Rose Canyon fault zones from the Buck Ridge fault in the south to the Hot Springs fault at the north end. Typical station equipment consists of a broadband seismometer (Streckeisen STS-2 or Guralp CMG-40T) as well as a strong motion accelerometer (Kinemetrics EpiSensor ES-T). Both sensors are recorded by a 24-bit digitizer (Kinemetrics Q330). Additionally, there are six unique stations with a 3-axis accelerometer (Kinemetrics Shallow Borehole EpiSensor) installed at 30-feet below the surface and recorded by a 24-bit digitizer (Ref Tek 72A-08/3). All stations are telemetered in realtime to IGPP for processing and archive.
Active stations
ERROR: Anza database is currently unavailable. Station information cannot be presented at this time. Please check back shortly.
Gathering station information....
Clicking on a station (represented by a triangle) in the map below will bring up a dialog box containing a brief summary of the station, including the location, and data latency. Click on the link below the table to view further information about each station.
To the right of each Network:Station code there is a status flag. The status flag is colored by the level of data latency for each station as per the key below.
Note: This display is for appraisal only and should not be used for detailed station diagnostics.
Power Density Function (PDF) data plots for stations
The IRIS DMC provides plots of the Power Density Functions for each station and channel in the ANZA network:
Seismic Maps of Southern California as recorded by the Anza array
To view near-realtime seismicity maps of Southern California measured by the broadband instruments in the Anza array, click on the links below:
Recent earthquakes in Southern California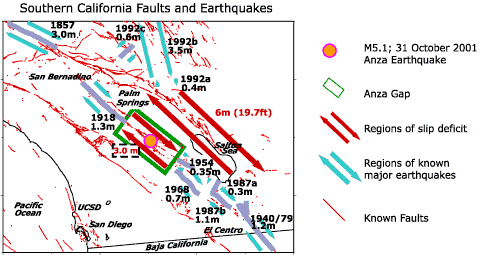 Waveform data from the ANZA Network are archived in SEED format and available from the Incorporated Research Institutions for Seismology (IRIS) Data Management Center (DMC) at the University of Washington. Please use the SeismoQuery tool provided by the DMC to request waveforms or check on data availability.
ANZA Funding Proposals