Magnitude 7.9 quake on the coast of Peru (Arequipa)
Last updated: 2018-03-26 17:50:59 UTC
The Anza group at the University of California San Diego operates a broadband seismograph network consisting of 16 (+ 2) three component broadband seismograph stations centered near Anza California (see map). We are also partners in a 10 station broadband network, KNET, that spans the Kazakstan/Kyrgyzstan border in Central Asia.
On 23 June 2001 at 6/23/2001 (174) 13:33:14.000 PDT we recorded a quake (preliminary ml 7.90) located near the coast of Peru (Arequipa). Preliminary reports say that structural damage has occurred in the city of Arequipa and some fatalities have occurred.
Initial source parameters for the recent event and aftershocks are shown below. The epicentral distance (distance separating the epicenter and the recording network) for the southern California network that we run (ANZA) is 64.5 degrees (7172 km).
This map shows the mainshock (red circle). ANZA network stations are blue triangles, KNET network stations are pink triangles. Backgound seismicity is also plotted.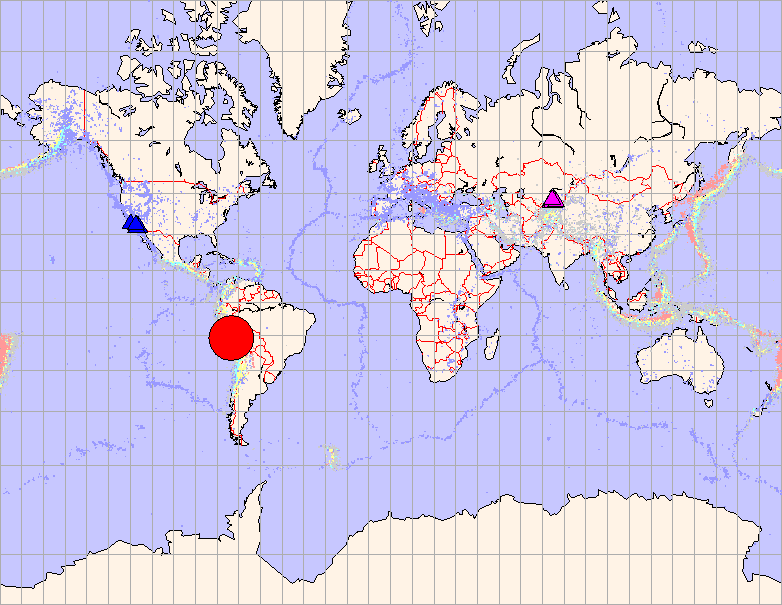 Initial source parameters:
| | | | | | |
| --- | --- | --- | --- | --- | --- |
| Latitude | Longitude | Depth | Origin Time (GMT) | ml | Author |
| -16.1400 | -73.3100 | 33.0 | 6/23/2001 (174) 20:33:14.000 (GMT) | 7.90* | QED |
| -16.68 | -73.310 | 33.0 | 6/23/2001 (174) 23:10:00.000 | 6.2* | QED |
You may also view a plot showing the:
Download data:
css3.0 miniSEED data for KNET or ANZA
Of local interest:
We operate a broadband station on Mt. Soledad. At 6/23/2001 (174) 13:43:48.676 PDT station SOL (Mt. Soledad, San Diego) recorded the P wave from this event.
Here is a view of that event as picked by our analyst. The pink "P" indicates a P wave arrival, the "S" indicates an S wave arrival. Click here to see a larger version of this image.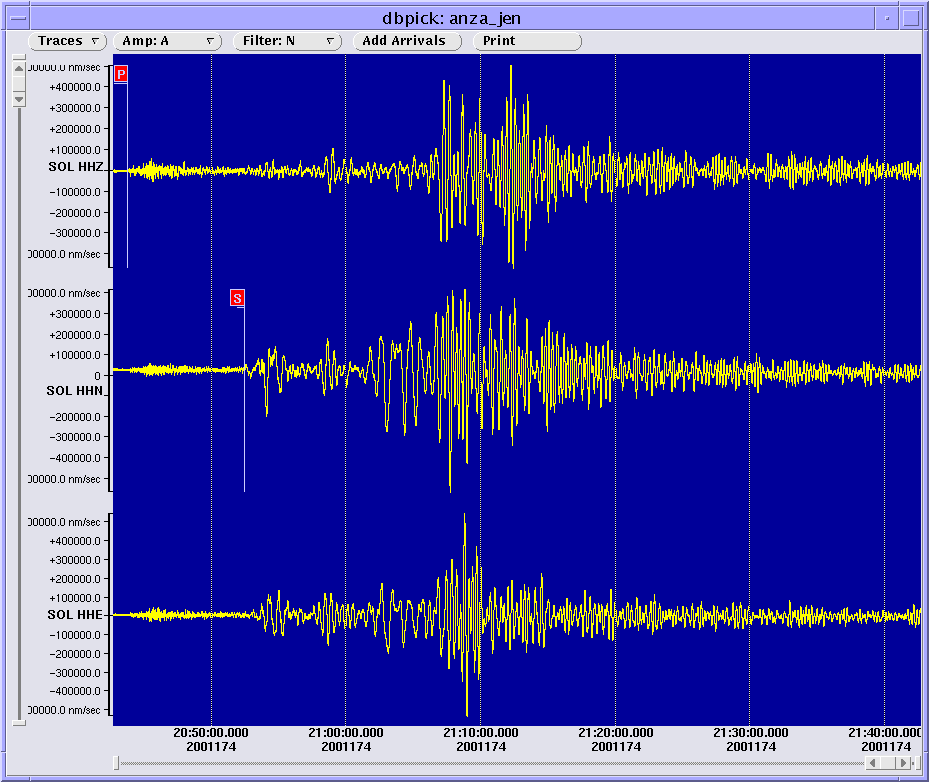 An external site (IRIS-DMC) also has a page with more information about this event.
Read a brief description of the geology of the area.

Learn more about the Anza group (including who works here, station information, research, other networks, nuclear tests in China/ India/ Pakistan).
If you are interested in retrieving data for this event, please visit the IRIS-DMC for data access.
URL: http://eqinfo.ucsd.edu/special_events/2001/174/a/index.php [Last updated: 2018-03-26 17:50:59 UTC]