October 8th, 2006 magnitude 4.2 mb event from an alleged nuclear test in North Korea
Introduction
On Sunday, October 8th, 2006 at 06:35:27 PM (PDT) an event was recorded near Kimchaek, North Korea. Subsequent reports have suggested that the event may have been a nuclear test. Although the Broadband Seismic Data Collection Center does not have any stations close to the event, the information in this page is provided to compare with recent nuclear tests in the region, including India, Pakistan and China.
Data from the seismic network KNET, which was used for analysis of nuclear tests in the region, passed from our responsibility to the Kyrgyz Institute of Seismology (KIS) and Institute of High Temperature Physics of the Russian Academy of Sciences (IVTAN) in May 2001. Therefore, we do not have any waveform data from this array. All KNET data telemetry was transferred from UCSD to the Incorporated Research Institutions for Seismology (IRIS) Data Management Center (DMC) where all the data are available. Data can be currently be requested from the IRIS who have created a webpage with information on this event, including waveforms.
Event map
Topographic map of the region. Mercator projection. Red star is the event location. Political boundaries in black.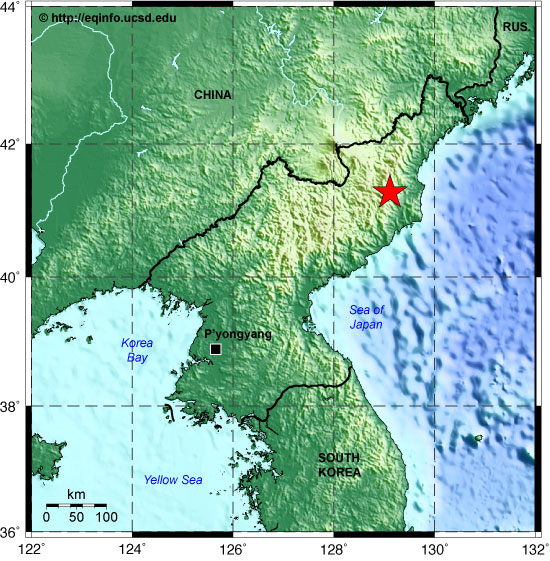 Event Parameters
| Latitude | Longitude | Depth | Origin Time (UTC) | mb | Author |
| --- | --- | --- | --- | --- | --- |
| 41.277 | 129.114 | 0.0 | 10/09/2006 (282) 01:35:27 | 4.2 | USGS NEIC (WDCS-D) |
More information
Share this page
If you find this page useful, please share it: