Special Events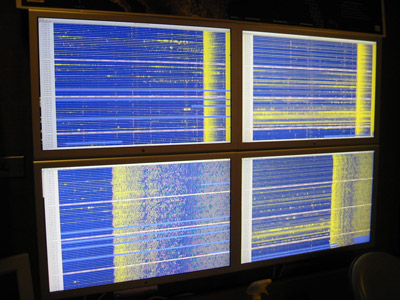 Figure 1: Monitors displaying real time waveforms recorded by seismic stations across North America created by the Alaska and Peru earthquakes of August 15, 2007. The top monitors show 24 hours of time, the bottom monitors show 2 hours of time. The photo was taken approximately one hour after the first arrivals of the P-waves for the Peruvian event. The upper monitors clearly show the P-wave arrivals of the Alaskan event, followed approximately 3.5 hours later by the P-wave arrivals of the Peruvian event.
Current Events
This link will display all automatic and reviewed events from the realtime system in the last 30 days. Only significant evnets will have a special page created for them.
Latest Special Events
This page provides links to individual pages that describe medium to large magnitude earthquakes that occurred within or close to the Anza deployed stations, and large teleseismic events that were recorded by USArray stations.
Special events for the current year are displayed. To view previous years events, please click on the year. Special event links for the selected year will be displayed, and other years hidden.
Special event dates are listed in YYYY-MM-DD format (where YYYY is year, MM is month and DD is day).
Archived Special Events
Nuclear Tests
California Events
USA Events
Global Events